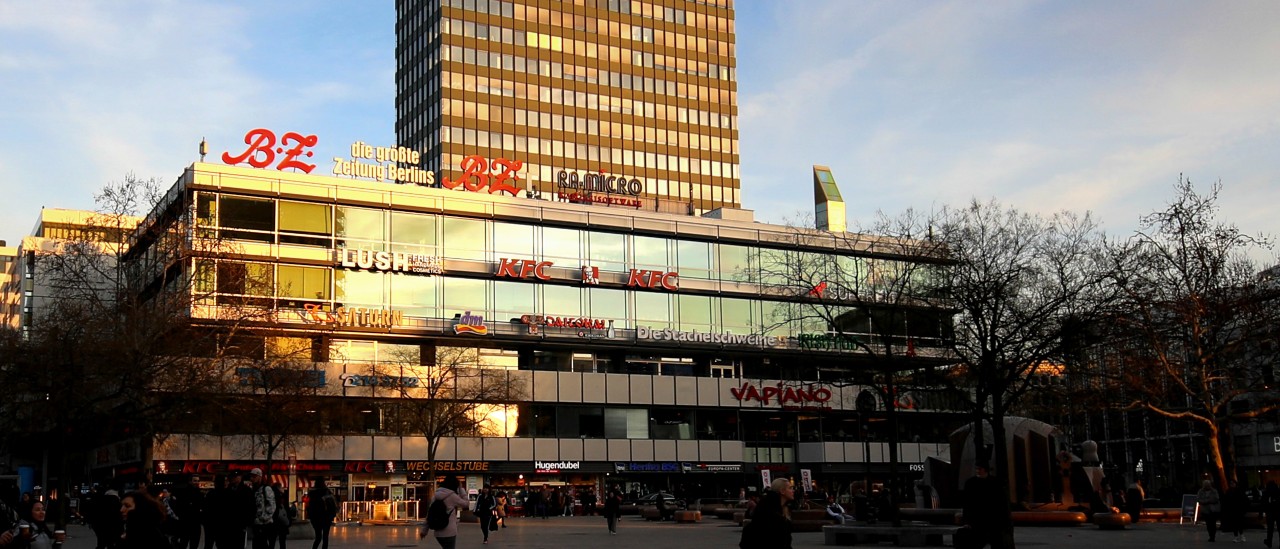 Where once the Romanisches Café had stood as a meeting place of the literary world, after the war, as a local newspaper put it, the "eyesore on Berlin's calling card" spread. "I too walked past it often enough," Karl Heinz Pepper recalled - "I got annoyed like all Berliners." So in 1961 he finally decided to remedy the situation, and he actually succeeded in convincing the individual property owners and a number of investors of his plan.
Construction of the Europa Center according to the plans of Professor Helmut Hentrich and Dipl.-Ing. Hubert Petschnigg began in 1963. The team of architects received artistic advice from Professor Egon Eiermann, who had also completed the construction of the new Kaiser Wilhelm Memorial Church in 1961. On 2 April 1965, the time had come: the 103-metre-high complex made of glass and aluminium was inaugurated by the Governing Mayor Willy Brandt (SPD).
Until 1979, the Europa Center even had its own artificial ice rink. However, it had to make way for cost and efficiency reasons during the second renovation and modernisation phase of the Europa Center. Today, the Tiffany's terrace café and the fountain are located on this site.
The Europa Center has a total area of about 80,000 square metres. It consists of the shopping centre with about 70 shops, numerous restaurants, the cabaret "Die Stachelschweine", the Office Tower with 13,000 square metres of office space - on 21 floors - and the Hotel Palace. There are 1,100 parking spaces in the directly adjacent multi-storey car park. Around 25,000-40,000 people visit the Europa Center every day.
The builder of the Europa Center, Karl-Heinz Pepper, died in October 2003. Until his death, he repeatedly gave new impetus to the building, which is now a listed building, through numerous modernisations, conversions and extensions. His son, Christian Pepper, has remained true to this line.