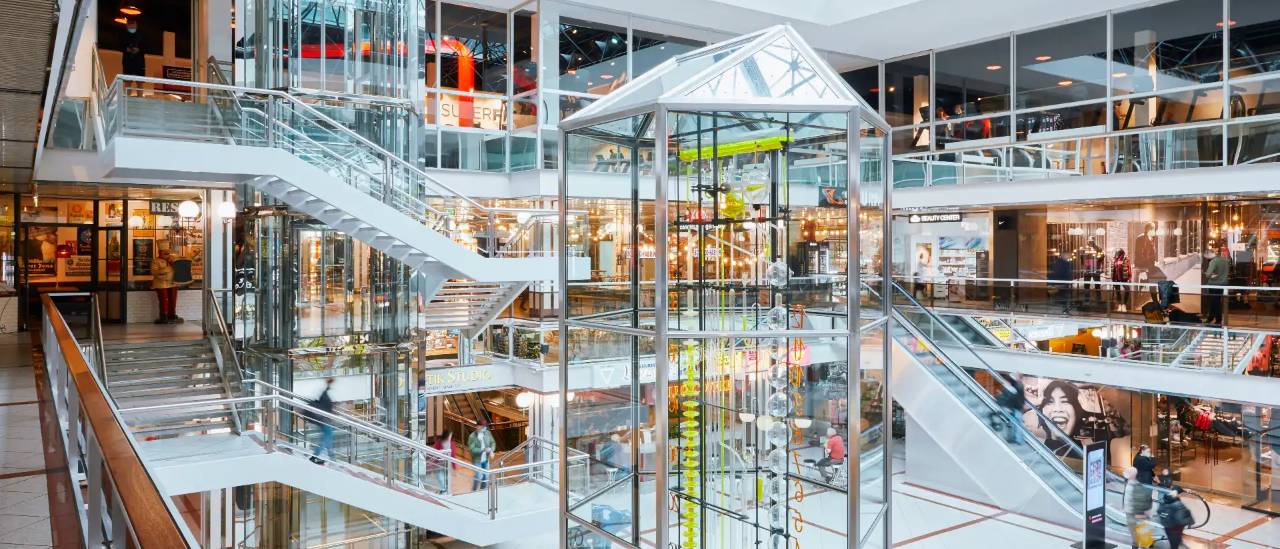 The Europa Center is located in City West right next to the Kaiser Wilhelm Memorial Church on Breitscheidplatz.
On the north side of the Europa Center building complex is Budapester Straße with the Zoo Palast, Bikini Berlin, 25 hours, the zoo and the Palace Berlin hotel. On the south side is Tauentzien, the extension of Kurfürstendamm and Berlin's busiest shopping street. In terms of footfall, the Europa Center side of the street has not only caught up with the opposite side of Tauentzien, but has even clearly overtaken it.
Due to its central location, the Europa Center is optimally connected to individual and public transport.
Breitscheidplatz is a transport hub with 3 regional express trains, 4 suburban trains, 5 underground trains and over 20 bus lines stopping in its vicinity. For individual car traffic, over 1,000 parking spaces are available to visitors in the adjacent multi-storey car park.
You can reach the Europa Center multi-storey car park via Nürnberger Straße. It is open 24 hours a day all year round and offers a total of 1,100 parking spaces. To make shopping easier for families, we have set up women's parking spaces on parking deck 02. In addition, for your safety, the complex is guarded around the clock by our friendly and attentive security staff. At 80 cents per hour, for the first two hours, you can park at the lowest price in the entire City West, provided you have your parking ticket validated in one of our shops or restaurants. A purchase worth EUR 10.00 is sufficient for this.
Our multi-storey car park also has a car wash with an adjoining service area. This means that your car is not only safe with us, but - if you wish - also freshly cleaned and ready for you again after your relaxing shopping trip to the Europa Center and its surroundings.
In addition, 2 charging stations are now available for electric cars.
Car park fees for Europa Center customers / standard rate
1 hour € 0,80 / € 2,50
2 hours € 1,60 / € 5,00
3 hours € 4,40 / € 7,50
4 hours € 7,20 / € 10,00
5 hours € 10,00 / € 12,50
6 hours € 12,80 / € 15,00
Day ticket € 15,00 / € 20,00
PARKING BERLIN - THE PARKING GARAGE BERLIN "EUROPA CENTRE "WITH THE LOWEST PRICE - PARKING BERLIN
City Parking Berlin - it doesn't get any easier or more convenient than in our multi-storey car park Berlin in the City West. Whether you are on a shopping tour, sightseeing, visiting a restaurant or in a bar in the evening - in the car park Berlin "Europa Center" you are always parked in the right place!
Tauentzienstraße 9-12 | 10789 Berlin
Zoologischer Garten station: RE1, RE2 and RE7
Zoologischer Garten S-Bahn station: S3, S5, S7 and S9
Zoologischer Garten underground station: U2 and U9
Underground station Wittenbergplatz: U1, U2 and U3
Bus station Europa Center: M19, M29 and M46
Bus station Breitscheidplatz: 100 and 200